Ace Carting Residential Trash & Recycling
It is our goal to provide quality and cost-effective residential trash and recycling services to every customer. Ace Carting provides trash and recycling services to single-family homes, apartment complexes and homeowner associations across Essex County, Warren County, and Washington County, New York as well as Rutland county Vermont. To achieve this goal we offer the following:
Drivers that are focused on customer satisfaction and safety
Clean and distinguished waste removal equipment including automated trucks, various sizes of residential carts
Informative, courteous and professionally trained customer service representatives
A convenient cart on wheels for household waste and recycling that you roll to the curb each week
An extensive curbside recycling program at no additional cost
Please call us for garbage and recycling rates and to schedule your waste and recycling removal service.
Residential Garbage
New Ace Carting residential customers will receive a 65-gallon or 95-gallon trash cart. The carts provide a safe and secure place for residential waste between pickup dates and the large wheels make it easy to roll carts to and from the end of the driveway.
Collection Schedule
Visit the Schedule page to lookup your normal and holiday residential trash and recycling collection schedule.
Garbage Containers
Cart Sizes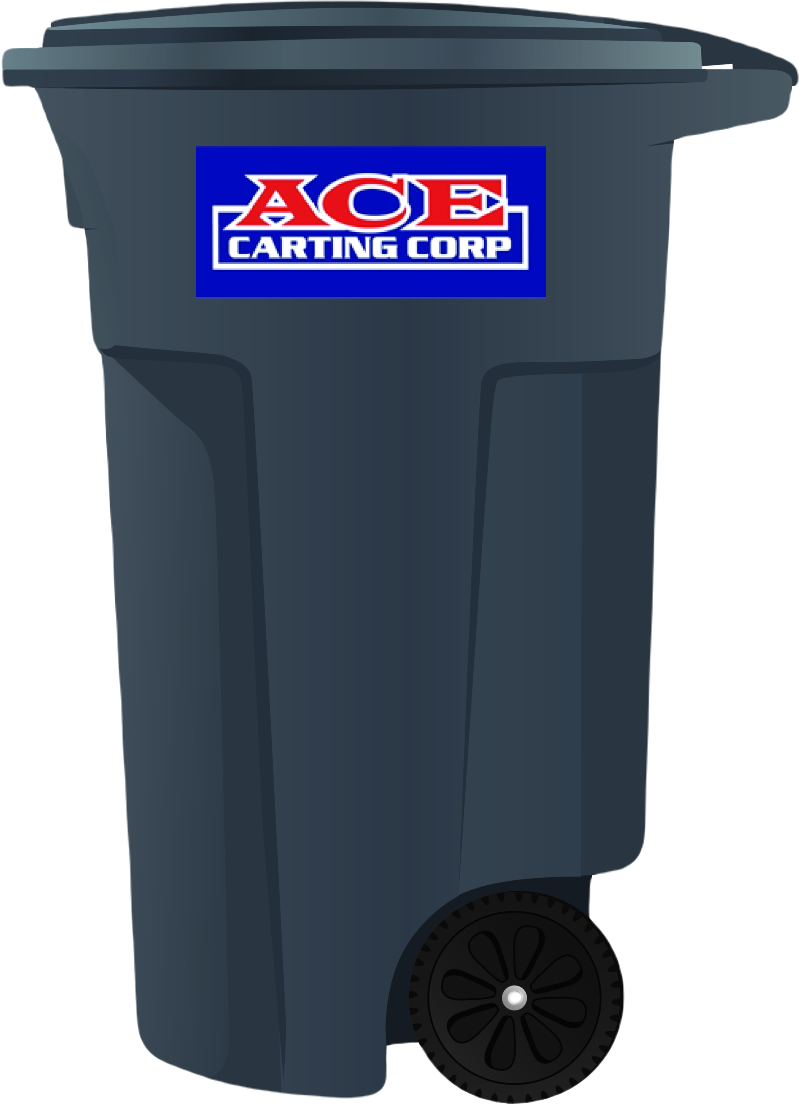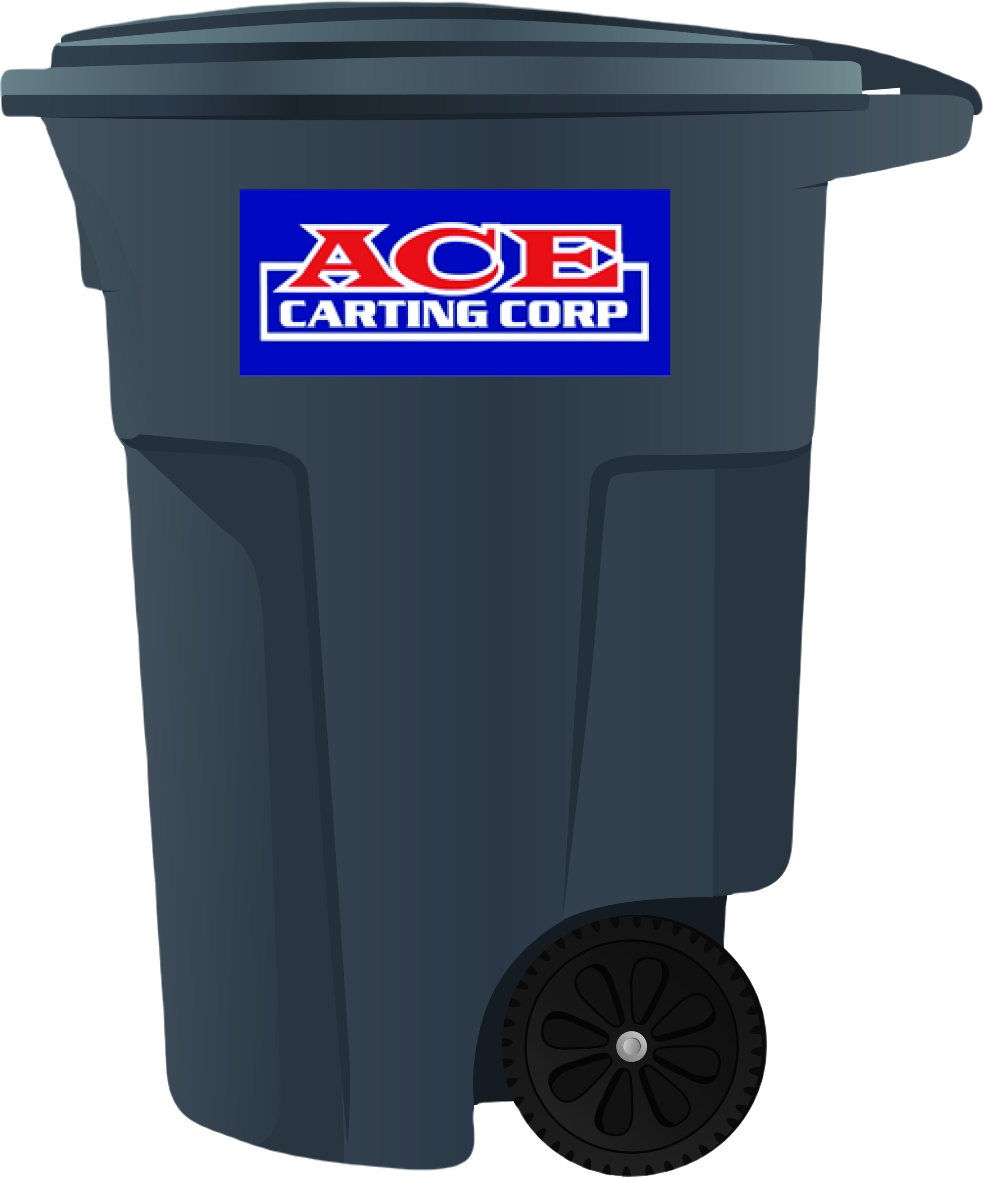 Trash - Acceptable Materials:
We accept normal household waste materials such as paper, food and miscellaneous garbage. Please put all waste in a bag.

Trash - Unacceptable Materials:
Ace Carting cannot accept the following materials in residential garbage containers:
Aerosol Cans
Animals
Antifreeze
Appliances
Asbestos
Ashes (hot or cold)
Barrels
Computers/Monitors
Construction materials
Contaminated Oils (mixed w/solvents, gasoline, etc.)
Dirt
Electronics
Flammable Liquids
Fluorescent Tubes
Hazardous Waste
Herbicides & Pesticides
Industrial Waste
Medical Waste
Microwaves
Motor Oil (transmission oil, lubricating/hydraulic oil)
Oil Filters
Paint
Petroleum (contaminated soil/lead paint chips)
Propane Tanks
Radioactive Material
Railroad Ties
Recycling
Solvents
Televisions
Tires
Wood
Yard waste
Residential Recycling
Single Stream Recycling by Ace Carting, or SSR, lets you put all your recyclables into one, large, lidded container that rolls right to the curb. It's the easiest way to recycle ever.
How It Works
Your Single Stream Recycling container comes in a 65-gallon cart or a 95-gallon cart that's either Grey with a Green Lid or Blue with a Yellow lid (depending on your service location).
Simply place all of your recyclables—paper, glass, cardboard, aluminum, and more kinds of plastics than before—together inside of this container and put it curbside next to your trash cart the night before your residential trash collection day.
From your home, it will be transported to our state-of-the-art processing facility. There, conveyors, magnets, rollers, screens, and other technologies separate the recyclables by type and bundle them for shipment to the places that will use them to make new products.
Recycling Container
Cart Sizes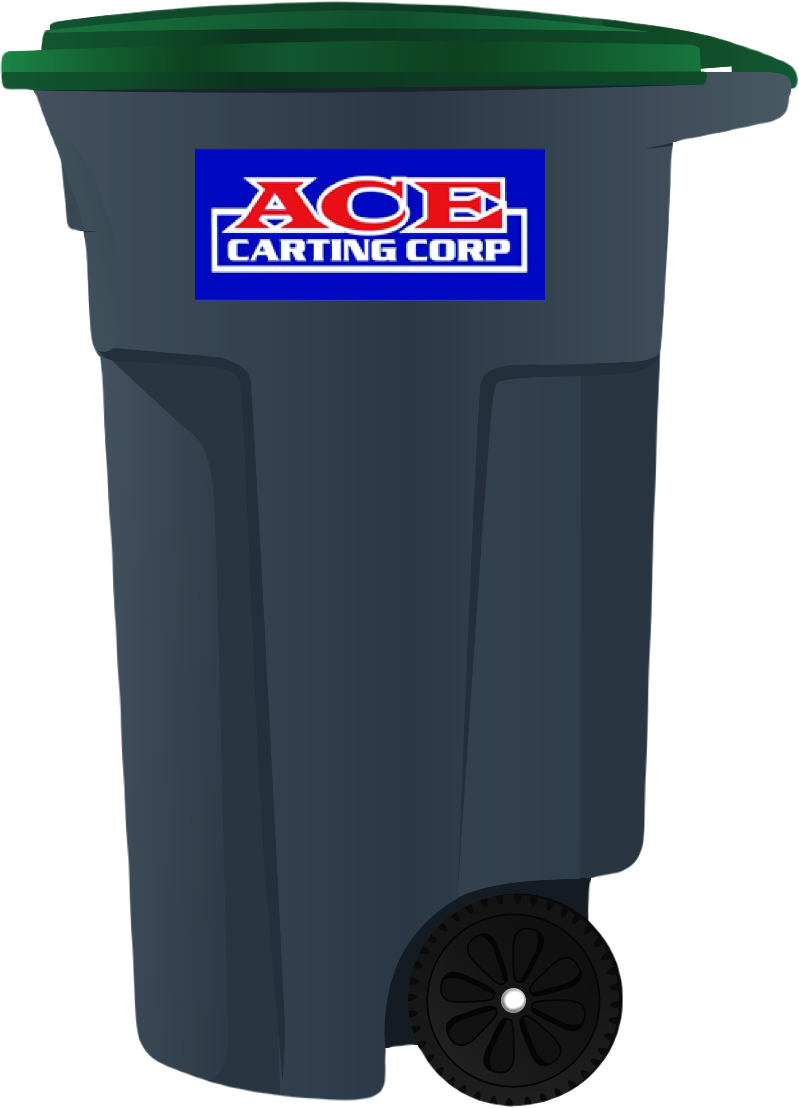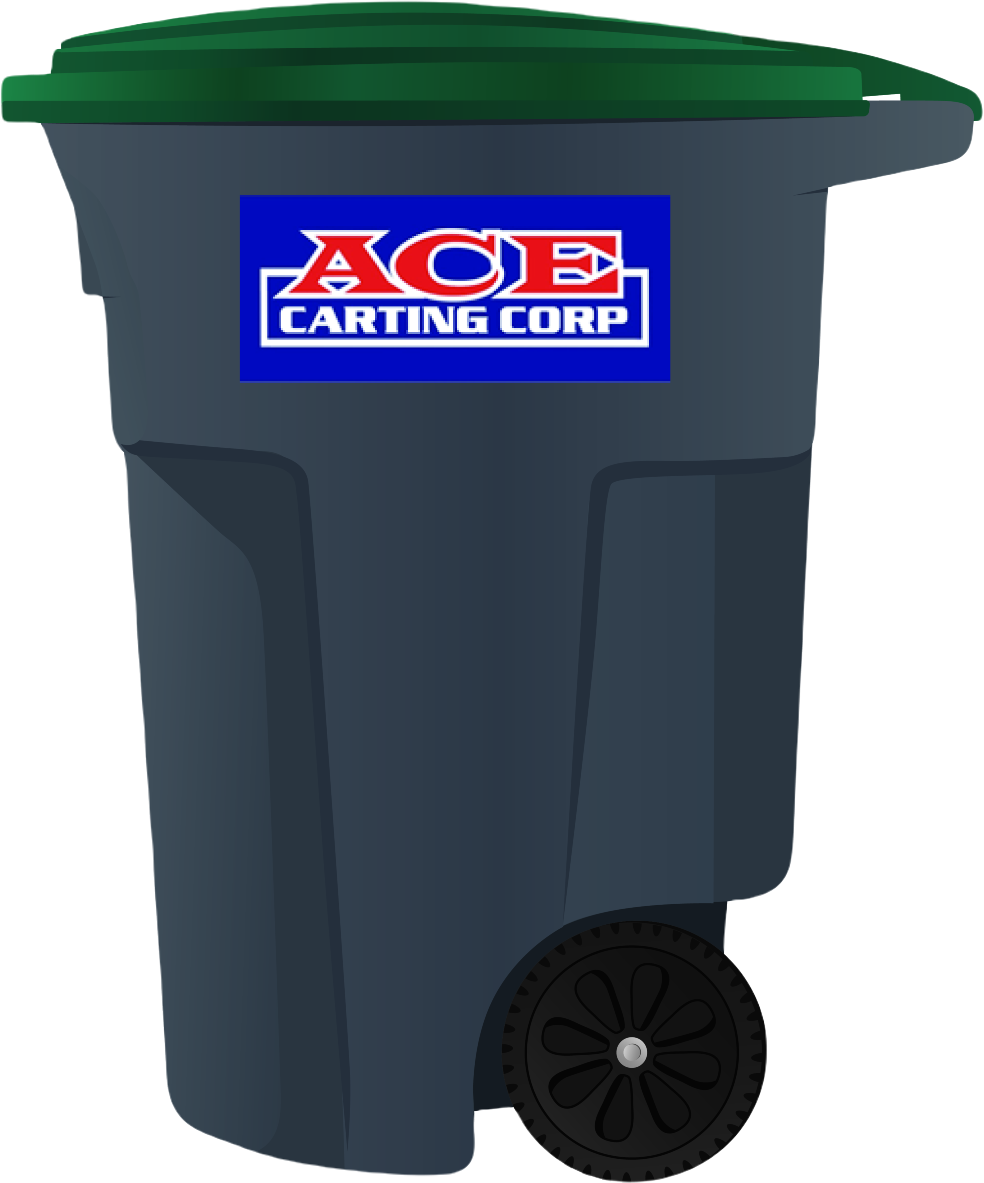 Recycling - Acceptable Materials (do not bag):
Aerosol Cans (must be empty)
All Plastic Bottles & Containers (#1-7) with Caps & Lids ATTACHED
Aluminum Cans
Aluminum Foil (pie plates, etc)
Aseptic Milk/Juice Cartons
Frozen Food Cartons
Glass Bottles (brown, clear, green)
Juice Boxes
Milk Cartons
Prescription drug bottles (empty)
Tin and Bi-Metal Containers (including empty Aerosol Cans)

Acceptable PAPER PRODUCTS
All Office and School Paper
Cardboard
Chipboard / Box Board
Computer, Fax & Copy Paper
Construction Paper
Junk Mail (including envelopes, coupons)
Kraft Paper (brown grocery bags)
Magazines & Catalogs
Newspaper
Notebook Paper
Paper Egg Cartons
Soft Covered Workbooks
Telephone & Paperback Books
White Envelopes
White & Colored Ledger Paper
Recycling - Unacceptable Materials:
Audio & VHS Cassettes
Christmas Lights

Clothing or Textiles
Compostable Plastics
Diapers
Electronics
Food
Needles, Syringes and Medical Waste
Plastic Shopping Bags
Styrofoam
Tarps or Pool Covers
Toys
Trash
Yard Waste