Useful Tools for Residential Customers
Useful Tools for Residential Customers
Ace Carting recently launched two useful tools to help their residential customers. Both tools are located on the new SCHEDULE page.
My Schedule - Residents can enter their address and view their collection schedule.
Waste Wizard - Residents can look up waste items and learn if they are acceptable in residential collection containers.

My Schedule
Now from your smartphone, desktop or tablet you can visit the Ace Carting website SCHEDULE page enter your address and view your normal and holiday collection schedules. And, after the software has found your address you can also request:

Get a reminder
And, under Get A Calendar you can:

Print a copy of the calendar
Add to Google Calendar
Add to iCal
Add to Microsoft Outlook



Waste Wizard
The Waste Wizard tool is an easy way to look up an item to see if you can put it in the Ace Recycling or Ace Trash Cart. Be sure to let other members of your household about this useful tool.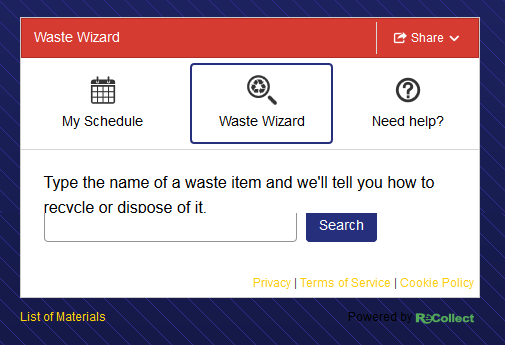 Remember -- to keep us all safe and to preseve the value of recyclables, please only place approved items in your residential containers.
---
Last Modified:
Search
Categories