Cartons to be Recycled
One of the more common residential waste items placed in the trash rather than the recycling container is the carton. Juice cartons, soup cartons and many others often wind up in the landfill when they could be sent to a paper mill and recycled into new paper products.
It's not surprising cartons aren't commonly recycled for a couple of reasons. First, people often follow a general rule of thumb – when in doubt, don't recycle it to avoid contaminating all recycling. And, secondly, it wasn't long ago cartons were supposed to kept out of the recycling bin.

Here's a list of the types of products found in cartons, and a diagram of the two types of cartons.

Products in Shelf-stable cartons
Juice
Milk
Soy and grain milk
Soup and broth
Wine
Products in Refrigerated cartons
Milk
Juice
Cream
Egg substitutes
Soy and grain milk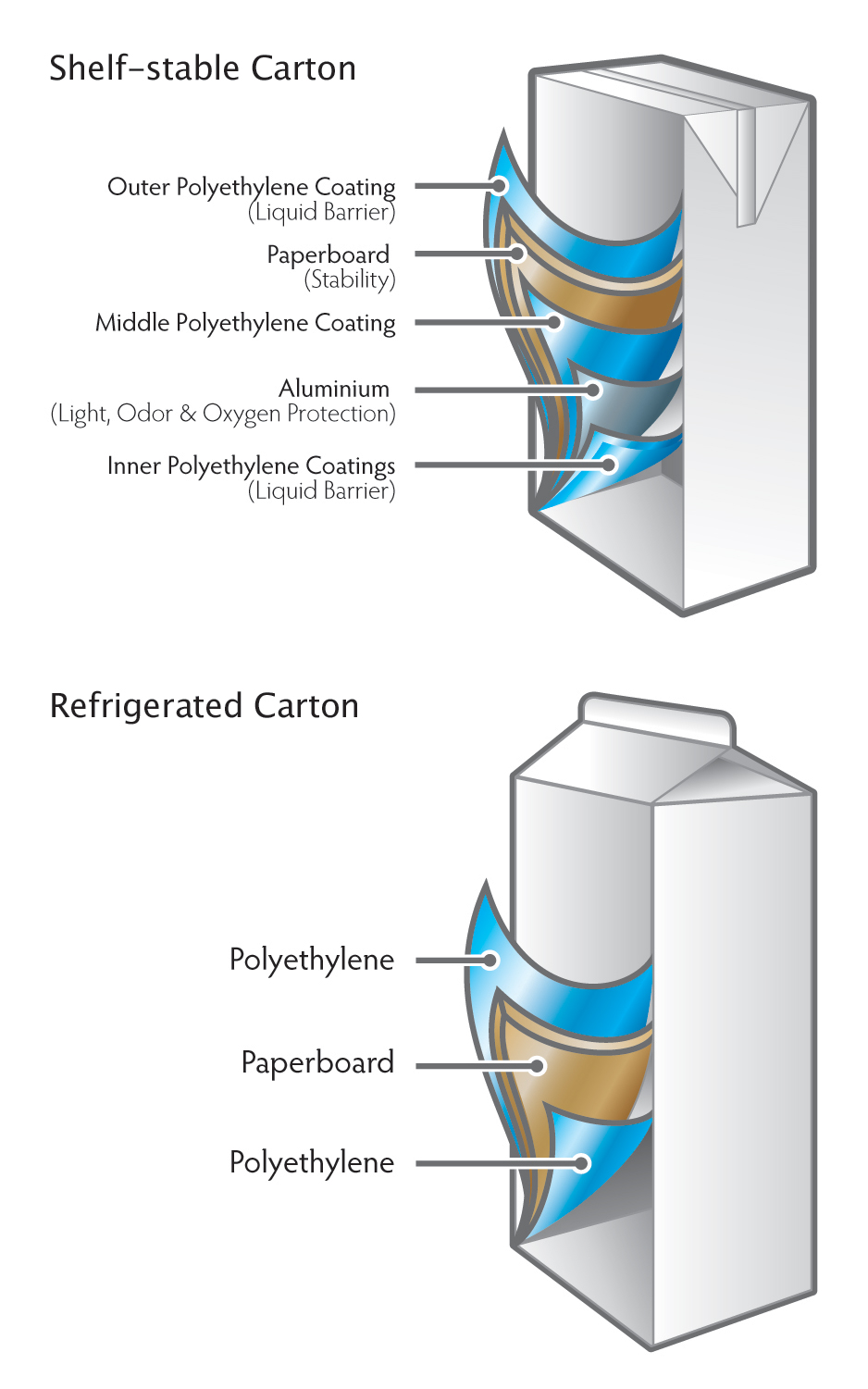 Cartons weren't always accepted in recycling programs because the wax used in the manufacturing made them difficult to recycle. But in recent years, the wax has been replaced with layers of plastic (polyethylene) and aluminum, both of which don't interfere with recycling. As a result of that change, local programs are now encouraging carton recycling.

Cartons are common in food packaging as they are used for juices, broths, soups, and other items and are designed for both cold storage and shelf storage. Made primarily of paper, cartons are welcomed at the paper mill where they will be recycled into new paper products saving resources and the nation's forests.
Today, thanks to awareness efforts of local recycling programs and special interest groups like the Carton Council, carton recycling is taking place in more than 35 million homes in 40 states. Earth911.com reports that carton recycling has increased from 18 percent to 37 percent of households from 2008 to 2011. And why not? With simple single stream recycling options like County Wastes', there's no reason to not recycle cartons.
The acceptance and understanding of carton recycling is good news for the environment. Ace Carting makes it easy for residents to view the list of acceptable recycling items on their website.
Working together we can increase recycling.
---
Last Modified:
Search
Categories